Visa requirements *
Visa-exempt foreign nationals: Citizens holding a biometric passport from Cameroon, Central African Republic, Chad, Equatorial Guinea or Gabon are exempt from visa to visit Congo (for a stay of less than 90 days).
Nationalities authorized to take visas upon arrival in the Congo: Citizens holding a passport from Benin, Burkina Faso, Ivory Coast, Mauritania, Morocco, Niger, Senegal or Togo may obtain their visa upon arrival at Maya-Maya Internationa Airport in Brazzaville.
Nationalities subject to visa: Nationals of all other countries can obtain their visa in any Congolese embassy or consulate.
Passengers in transit: Transit through Maya-Maya airport in Brazzaville is permitted without a visa for passengers continuing their journey in the same aircraft or changing aircraft without leaving the airport.
Special passports: Chinese citizens do not need a visa if their passport is marked "For Public Affairs". Holders of diplomatic or service passports from China, Brazil, Russia, Angola or Portugal do not need a visa.
Special case: Recipients of an official letter of invitation do not need a visa to travel to Congo.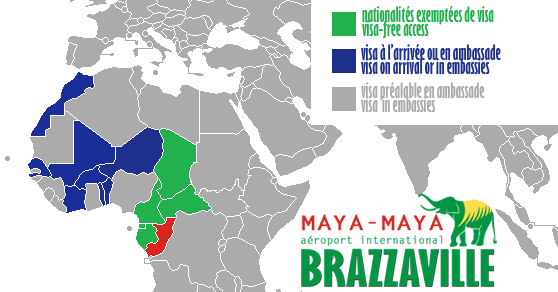 Note: a passenger who does not have Congolese identity papers (passport or identity card) is considered as a foreign passenger even if he / she has a multi-citizenship and must therefore be in possession of a visa .